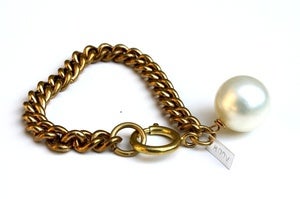 €

123.00
The PEARL HARBOUR SPA Bracelet sets a pearly highlight to your wrist. Worn solo, in combination with the TURCS & CAICOS RETREAT Bracelet or as many as you wish all together this precious one of a kind piece sparkles round and round for the overall happy jewellerized being.
Regular wear is strictly recommended: By consequent usage the endorphine level will double up to be followed by an instant joyful well-feeling.
Gold brass with double shell pearl pendant and logo stamp.